The small country Denmark aims high with its energy goals and acts persistently towards becoming fossil fuel free by 2050. As part of this initiative, most district heating and combined heat and power (CHP) plants typically switch to alternative energy sources, such as solar or biomass.
To join the line of green energy producers, Smørum Kraftvarme A.m.b.A., a CHP plant in the capital area of Denmark and renewable specialist, Aalborg CSP A/S inaugurated a new, 8MWth solar heating plant today. The plant consists of 11,312 m2 flat panels that can jointly produce 5,568 MWh heat annually and thereby sustainably contribute to meeting 2,583 consumers' heat and hot water demands. With the official opening, an ambitious journey towards reducing the facility's natural gas dependency and stabilizing the fluctuating energy prices has officially begun.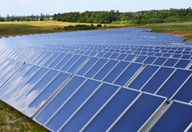 "Today we have reached a significant milestone towards a greener and more efficient means of energy supply. With the competitive solar plant from Aalborg CSP, we are not only able to say stop to fluctuating energy prices but also strengthen our city's green profile with the reduction of 1,100 tons CO2 emission annually", said Jan Møller, Managing Director at Smørum Kraftvarme A.m.b.A. at the ceremony.
The launch of the new system also celebrates successful commissioning of the plant and the remarkable performance data recorded during test productions in Spring. Due to Danish weather records in May, the solar plant was able to produce 40% more energy than anticipated and thereby to cover nearly 100% of the city's hot water and heat demands. With this exceptional achievement, the solar plant from Aalborg CSP has made a high-performance debut for the official ribbon-cutting.
"We could not have imagined a better solar season for the launch of this advanced solar plant which is already our fifth project in the country", said Jes Donneborg, Executive Vice President at Aalborg CSP A/S.
"This energy system once again confirms that the best approach to foster green energy transition is to understand the client's energy needs in order to match them with the right solar-thermal technology. Smørum Kraftvarme's low-temperature needs favoured a flat panel system, however, a customer from a different industry, in a different geographical location or with multiple energy demands could have benefited more from a CSP parabolic trough system combined with a storage tank. Having the flexibility to choose from a wide range of energy technologies gives us advantage in proposing the most value-adding solutions that are optimally matched with individual customer requirements", added Mr. Donneborg.
Project facts:
Client/Owner: Smørum Kraftvarme A.m.b.A.
Capacity of the plant: 8 MWth
Annual energy production: 5,568 MWh heat
No. of customers: 2,583
Supplier of the system: Aalborg CSP A/S
Scope of supply: Complete solar collector system, technical installations and technical house, transmission lines
Location: Smørum
Area: 11,312 m2 solar collectors
Plant layout: 59 rows with up to 20 collectors in a row
Maximum temperature: 95 ºC
Solar collector type: GREENoneTEC GK3003 series, single and double glazed
Expected system lifetime: 25 years
CO2 reduction: 1,100 tons / year
About the history of the project

Press contact:
Jelica Matoricz
Marketing & Communications Manager, Aalborg CSP
Phone: +45 52 73 37 96
E-mail: jem@aalborgcsp.com
About Aalborg CSP A/S
Aalborg CSP A/S is a leading developer and supplier of innovative renewable technologies aiming to change the way energy is produced today. Relying on extensive experience from some of the most efficient concentrated solar power (CSP) projects around the world, the company designs and delivers green technologies and integrated energy systems to lower the cost of energy for industries and power plants worldwide.
Aalborg CSP places strong focus on R&D activities and partners with knowledge-based companies and institutions to create leading-edge technologies. As a result, the Aalborg CSP engineering design is centred on a value-adding concept providing solutions that excel in operation, increase plant revenue and contribute to a greener future.
Headquartered in Aalborg (Denmark) and with sales & service offices in Spain, Kenya, Australia and Indonesia, Aalborg CSP has realised cost effective green energy solutions to a variety of industries worldwide.
For more information visit www.aalborgcsp.com or follow us on LinkedIn. Twitter, Youtube, Youku or Facebook.