Lid for Pit Thermal Energy Storage
Aalborg CSP's durable and operationally stable lid technology ensures lower heat loss in the PTES contributing to higher efficiency and reliability of the complete energy system.
Diffusion-open top cover construction minimizes heat loss
Besides turnkey delivery of customized Pit Thermal Energy Storage (PTES) systems, Aalborg CSP also offers supply and installation of key PTES components including lid solutions for existing systems.
The durable and operationally stable lid technology prevents accumulation of air, water and moisture inside the insulation in an efficient way and is furthermore designed as a diffusion open construction. This allows for any vapor that might pass through the floating liner from the upper water levels of the PTES to diffuse out through the insulated construction thereby preventing vapor from accumulating and condensing inside the insulation. By making the lid a diffusion open construction, the insulation capacity of the storage is greatly improved, and the heat loss is reduced.
The lid is furthermore divided into sections for improved rainfall handling. The lid sectioning enables safe and efficient dewatering of the surface of the lid with a minimum of maintenance required. A draining system in each section of the lid leads the water to a pumping well, where the water is pumped away. Each section is designed with an inward fall toward the centre of the section, which allows for rainwater to be led away from the surface.
---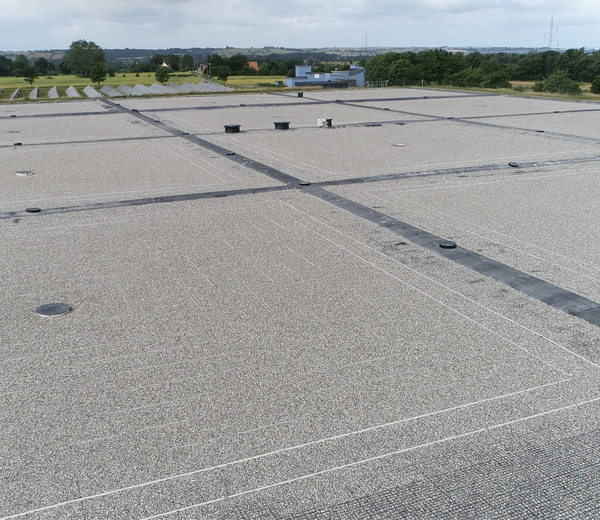 Certified by Lloyd's Register
In the summer of 2021, Aalborg CSP received a Technology Qualification Certificate from Lloyd's Register declaring that the unique lid technology for PTES meets all necessary requirements in terms of design and functionality as well as sustainability. This includes a minimum lifetime of 25 years, a minimum energy loss and an availability factor of 100% without risk of stoppages. Moreover, a minimum of 90% of all materials used in a PTES are recyclable. The certified lid design differs from other designs on the market in terms of both quality and reliability and thereby ensures lower heating prices for the consumers.
The inward fall on each section furthermore allows for air pockets, that would otherwise develop underneath the lid construction, to be led away. In addition, dividing the lid into sections also enables scalability.

These unique design features ensure lower heat loss in the PTES resulting in higher performance and efficiency of the overall energy system as well as a lower price per delivered MWth.